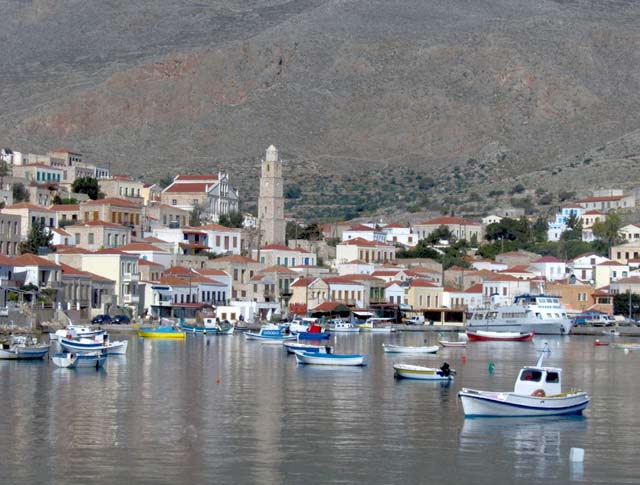 How is it possible that you "stumble upon" an island?
This is what happened to me while researching about Kastelorizo, the "limestone" island. Chalki is close to Kastelorizo, belonging to the Dodecanese group of Greek islands.
On Chalki island you can admire some of the world's finest pebble mosaics. Unfortunately the few images I found on internet have copyright but if you go to this gallery
HERE
on Flickr you will see what I mean.
Now, what's more about this little island ?
Many of its inhabitants have immigrated to Florida and established a sponge fishing business there!
Chalki (Halki) Island lies 16 km from Rhodes and 302 nautical miles from Piraeus. One of Greece's smallest islands it has 28 sq. km of land mass and 34 km of coastline. It has a population of under 300. No cars are allowed on the island. The capital and port of Nimborio is built ampitheatrically on the SE side of the island and on the Bay of Nimborio. Many of the inhabitants have immigrated to Tarpon Springs, Florida and established a sponge fishing enterprise there. Thats why the road from the main town and port is called Tarpon Springs Blvd., in honor of the immigrants who financed its construction. Beaches on both the north and south coasts are reached from the capital on foot or by caique of which Kania, Areta, Giali and Trachia are the nicest. 15 minutes walk along the 'blvd.' brings you to sandy Pondamos Beach with its taverna and umbrellas. Nimborio's Church of St. Nicolas with its important wall paintings and

magnificent pebble mosais

courtyard is the island's main attraction. The former capital Hora was inland to escape marauding pirates and is now deserted. In its heyday there were some 4000 residents. The ruined medeival castle was built on the site of the ancient acropolis. There are 3 monasteries on the island: Taxiarch Michael of St. John, Holy Trinity and Holy Cross.
More spectacular pebble mosaics from Chalki
HERE
Quoted text from
holiday-in-athens
Read more about Tarpon Springs
HERE
Images link to their source